Learn About Collagen Supplements
Collagen and Dietary Supplements
Collagen has been around for forever but it has gained a tremendous amount of popularity, especially in the last handful of years, as a dietary supplement. It can be very confusing to understand all the different aspects of collagen and its variations.
There are many questions you may have about Collagen including:
What are the differences between Collagens?
What Collagen can help for my ailment?
Which Collagen is best to take?
What is the difference between chicken, marine and bovine collagen?
What does "Native" Collagen mean?
What is denatured and undenatured Collagen?
Why is a pill or capsule better than a collagen powder?

The goal on our website is to introduce you to these and other topics of interest relative to collagen, so that you can be informed and make the right choices for yourself.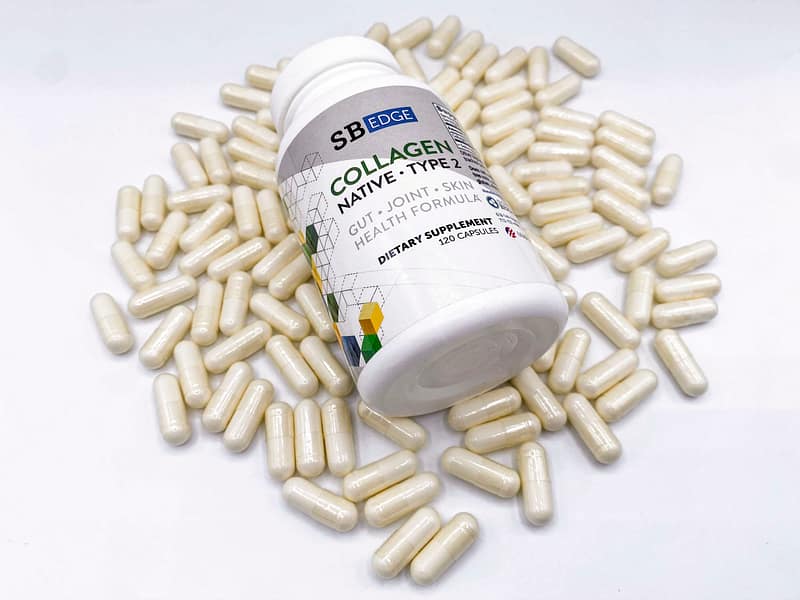 Collagen Pills vs. Peptides and Powders
The encapsulated pills that we manufacture are termed "native" or "undenatured" which describe proteins, including collagen, that are still in their natural three-dimensional shape.
Although containing powder, our collagen native type 2 powder has been processed gently so as to maintain the important three-dimensional shape of collagen. 
On the other hand, peptide collagens, commonly sold in powder form, have been broken into less helpful fragments.  The important three-dimensional structure of collagen has been damaged, allowing it to do things like dissolving in water.   If a collagen dissolves in a liquid, then it is not nearly as effective as a collagen in its native and natural three-dimensional structure.  Collagen Native Type 2 is in its native and natural undenatured state.
The three-dimensional structure of native collagen also has an important role as its natural shape lends itself to being bio-active.  This important shape interacts with your body, like a key turning on an ignition, to activate other important processes in the body.
You can learn more about the benefits of the natural shape verses fragments here.
Take the
90-day
Challenge!
See how Native Type 2 Collagen will help to resupply your body with natural collagen to rebuild the tissues that are damaged and are causing joint pain!